May 2018
The Scandinavian Spaceship
Having recently acquired a second office in their Oslo based building, digital design studio Bakken & Baeck partnered with local interior design studio Kvistad to arrange their new space. The revamped studio, nicknamed the Scandinavian Spaceship, is focused around space-age and futurism. It's a fitting theme for the eccentric studio of Tobias Baeck and Johan Bakken.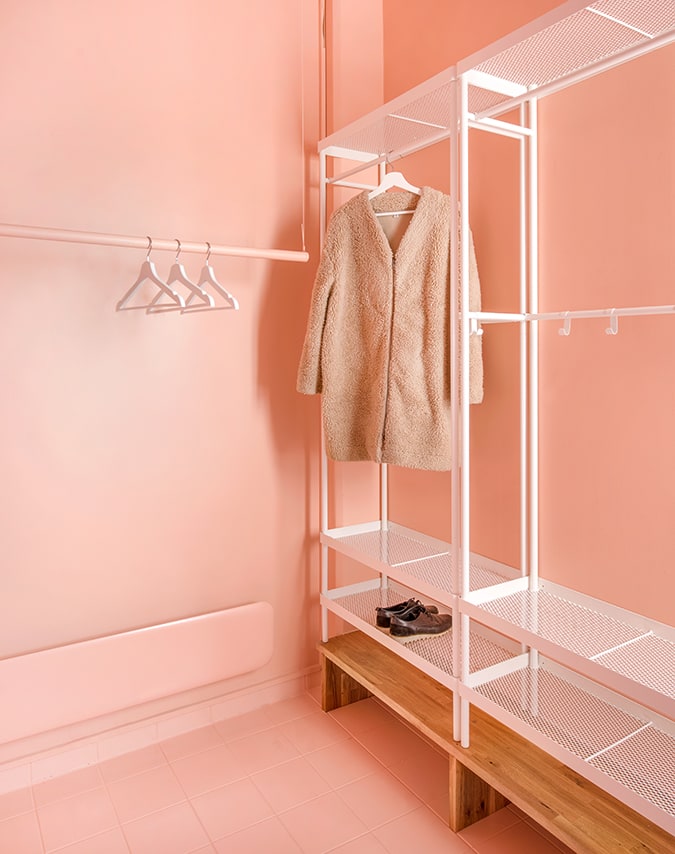 Founded in 2011 by Tobias Baeck and Johan Bakken, Bakken & Baeck (B&B) is a product of trial and error. After a failed attempt to start their own business venture, the pair scaled back and focused on building digital products for clients. Since 2011, Tobias and Johan have grown the company from 2 to 60 employees across 4 locations. B&B are also the masterminds behind Wake, the design collaboration, and feedback software.
"I think a lot of designers and entrepreneurs have a natural ability for empathy."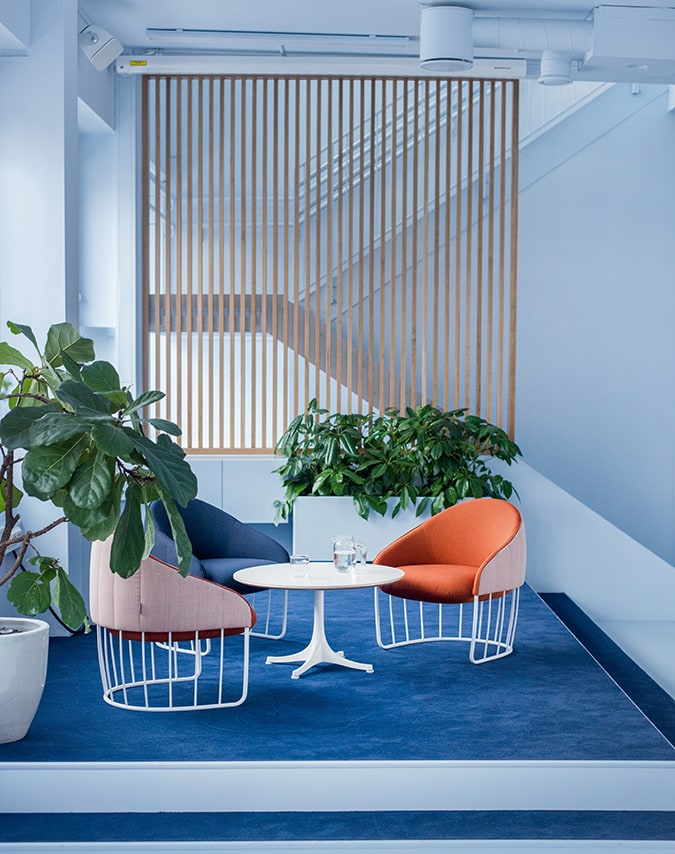 Hey there Mr. Blue
It's highly likely that the first thing your eyes notice is the studio's colloquial color palette. While the open space is predominately blue, various partitioned rooms own a feature color of their own. The sauna room, which highlights a red palette, is equipped with Kvistad's handmade pillows and cushions making for a great spot to recharge. The sauna room's circle entrance-way feels as if you were entering a room on the International Space Station. A salmon-colored coat room with oblong space-like mirrors and a naturally lit yellow conference room round out the studio's triadic harmony.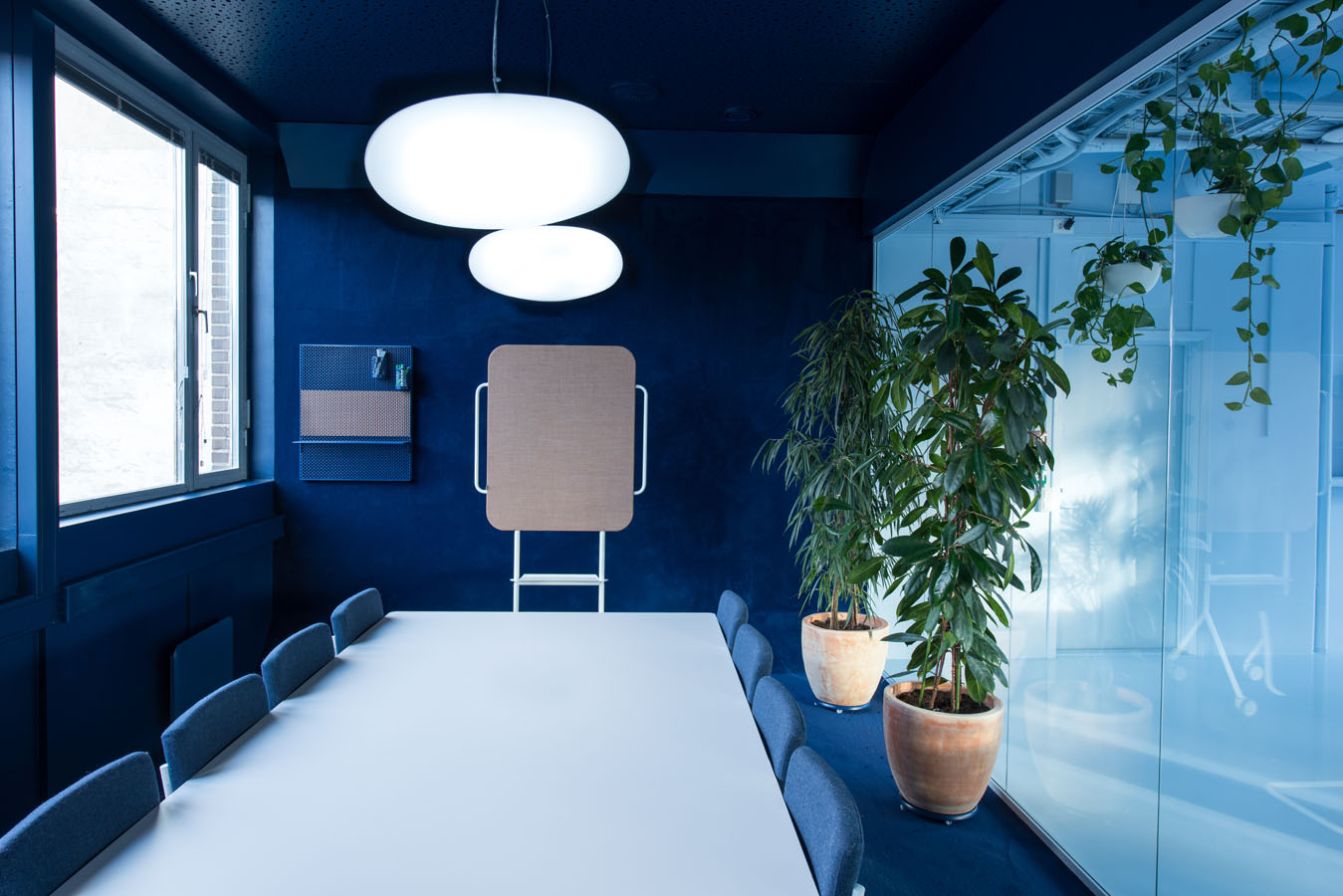 Tangled up in blue
I find the greatest contrast in the studio to be the dark blue. Featured heavily in a meeting room, a dark blue carpet crawls up the wall behind an easel to meet an equally blue ceiling. It creates a calming seriousness that fits the nature of a meeting room. Seeing the baby blue rooms behind the glass partitions gives you a visual representation between work and play—all with a simple color change.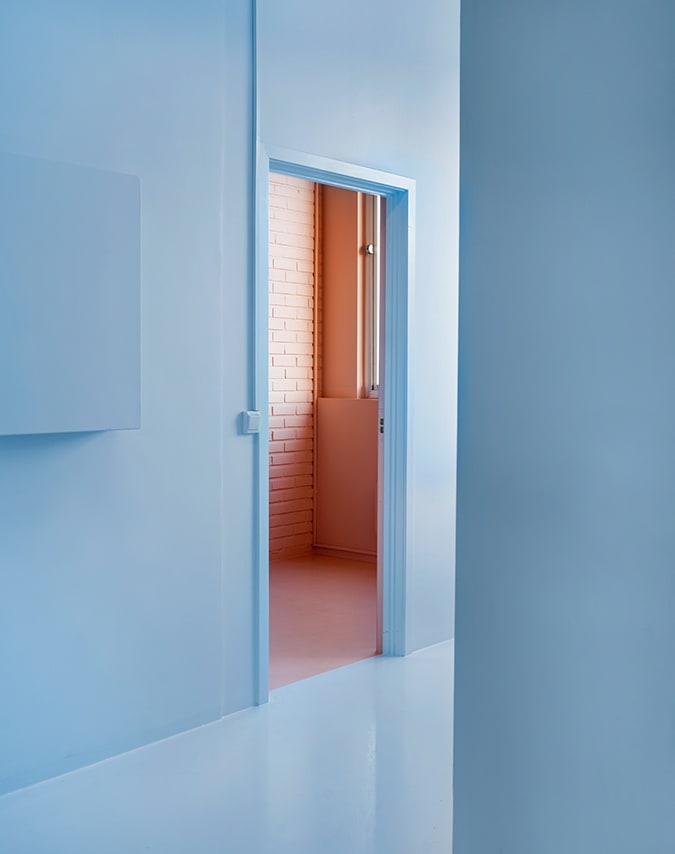 A continuous flow
To make the studio appear as if it was created out of one material, the floors, walls, ceilings, and utilities are all in painted in the same color. However, Kvistad chose to keep the wood material its natural color. It's an interesting choice considering wood is one of the easiest materials to alter and doesn't radiate a space-age vibe. Nonetheless, I don't mind the decision at all.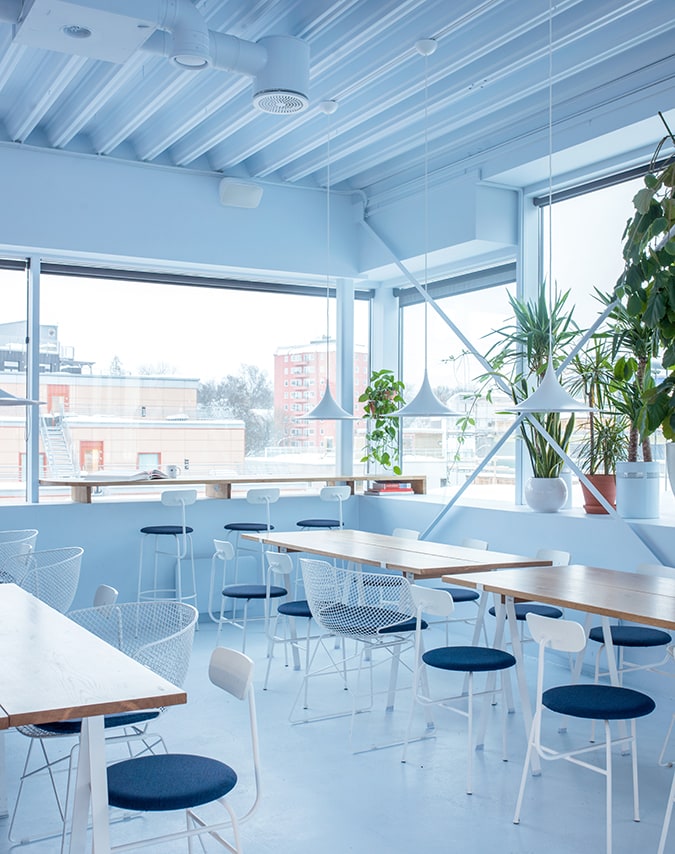 Purveyor's of randomness
If B&B's studio space wasn't enough to entice you to work there, the plethora of employee benefits surely will. Lovers of randomness, Bakken & Baeck will support any crazy idea an employee throws at them. Don't believe it? Their rooftop terrace is currently shared with a colony of 420,000 bees across 4 hives; they've created the world's largest rubber chicken slingshot; and they host their own conference, An Interesting Day, on an island outside Oslo; all employees are invited. And here I thought casual dress Friday at my corporate job was great.