May 2018
Tobias Baeck, Co-Founder of Bakken & Baeck
Formed in 2011 by Tobias Baeck and Johan Bakken, Bakken & Baeck is an Oslo based digital design studio with locations in Germany, Netherlands, and the United States. Tobias talks to us about the importance of culture in a studio, working with startups, embracing randomness, and the evolution of their design collaboration software Wake. This interview was conducted via email in May 2018.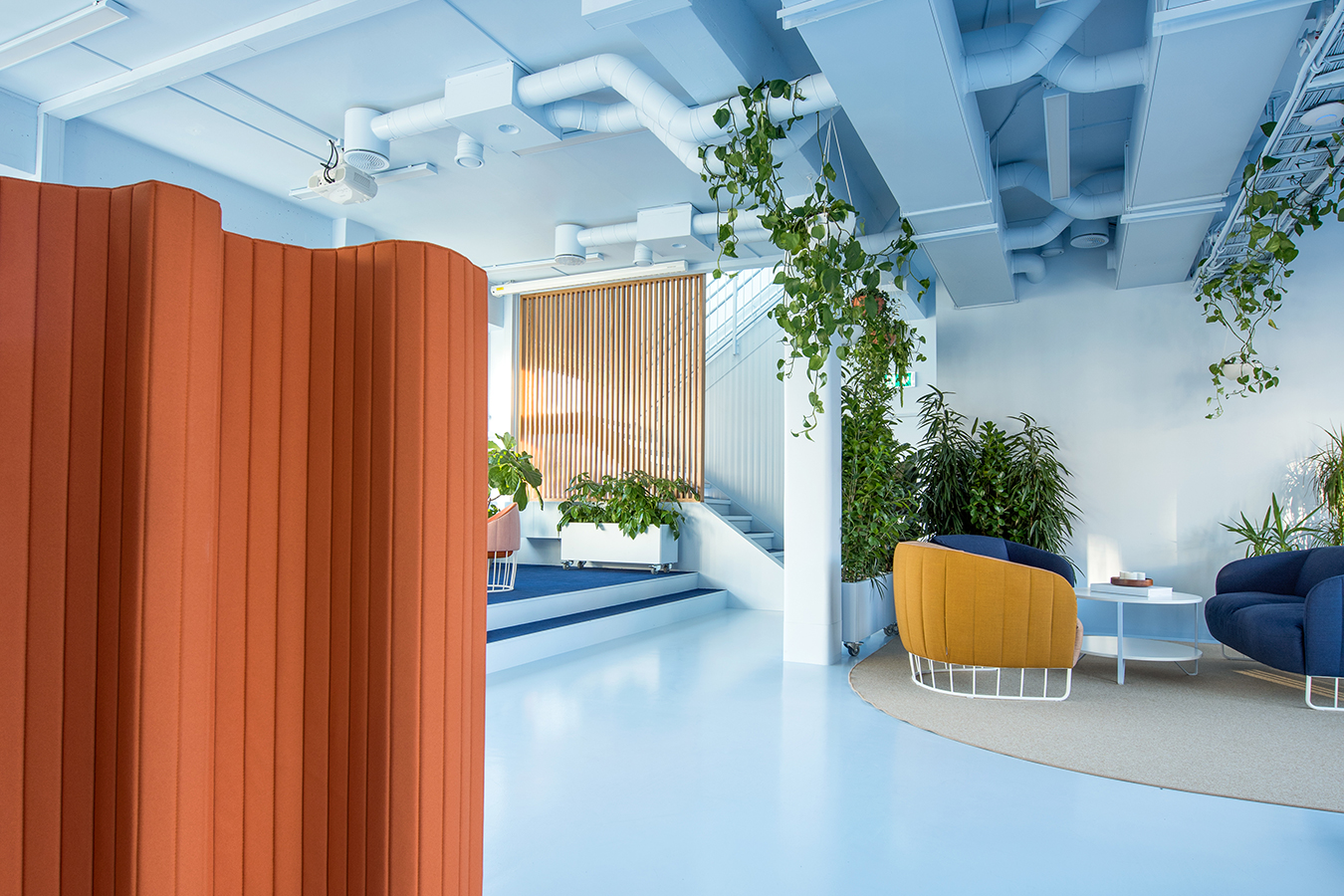 Bakken & Baeck was founded in 2011 by you and Johan. How did you two meet?
I had stalked Johan for 10 years, trying to get him to work with me, but he was always busy. At an NGO I worked at I was finally able to hire him to work with me on what turned out to be a super successful project. We also got to know each other very well, and we both realized we wanted to work together more. After a failed attempt to launch a startup, we decided to start a consultancy business where we built digital products for other companies. We wanted to keep it small, just the two of us, hence the name.
From two people to 60 and counting, you clearly learned from the attempted startup.
The startup we were working on was competing directly in the space of Amazon, which turned out to be very difficult and a lot of work (shockingly). We also had to spend a lot of time negotiating contracts and talking to many different dealers and potential partners. Both of us realized pretty quickly that we were more into spending our time making good products rather than in meetings with men in suits. We decided to abandon the idea completely, and do client work instead, which turned out to be a great decision.
So the decision to start Bakken & Baeck was more of a planned approach?
It was planned but the timing wasn't the greatest. We started the business a week after my daughter was born. We realized that we didn't have time to waste and knew we had to go all in if we wanted to succeed. So a bit high risk, but it all went well in the end.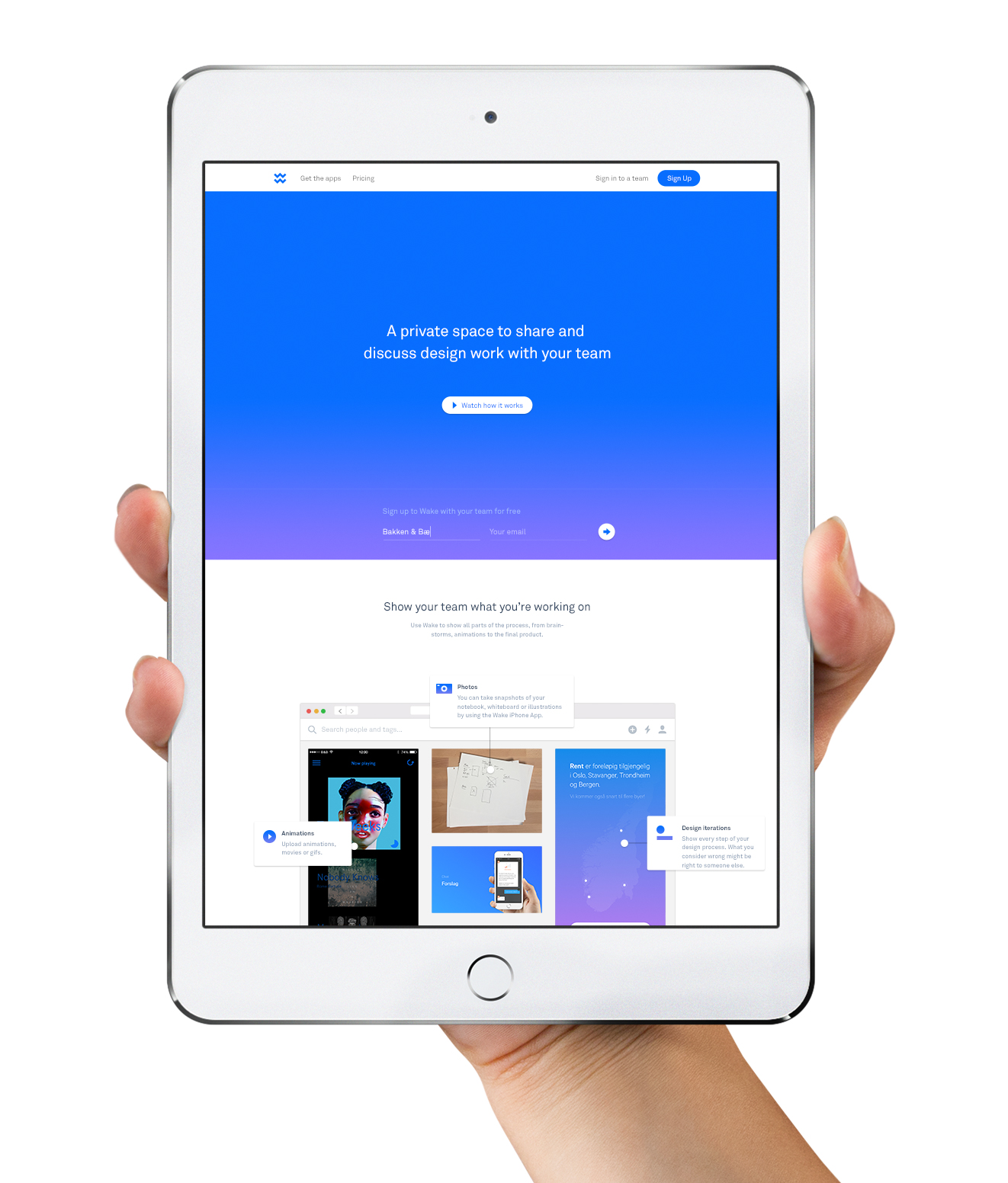 In 2014, B&B created the design collaboration software Wake. Is Wake the offspring of solving an internal studio problem? Perhaps not finding the proper software to use?
Even though we were just 12 people in the same room at the time, it was difficult to know what everyone was working on. It was actually our good friend Chris Kalani who came to us with the idea of a product that could solve these issues. The design process is fragmented across different tools and channels, which makes huge parts of the process isolated in-between reviews. We had the same experience and started building a prototype. We quickly realized the potential of it, and put more resources on it to make it a whole-hearted product and from there it grew to its own business. It was recently acquired by InVision.
Is it hard to let a studio project go and become its own entity? I imagine you have an emotional attachment to Wake.
We knew we wanted to spin it off into its own startup once we decided to fully build the product, so pretty early on. This was the plan all along, and Chris would head the new company. His great network in San Francisco made it easier for us to get a good start with investors and customers. So it wasn't very emotional to let it become its own entity. We also continued to work with the Wake team on new features and business development, so we stayed "in touch" and as a part of the team all the way. Letting it go to InVision was more emotional, as it would mean that we wouldn't be involved anymore. But you know, sometimes you just have to let your children go on their own in the world.
How did you know Wake was something that you would want to bring to the public, oppose to keeping it for internal use only?
It quickly became an indispensable tool for us, and we noticed that - by sharing our work more often - it improved our process, our collaboration, and in the end also our products. We started showing it to friends who worked in the business. They became early adopters and started testing a beta version. We had beta testers for around a year where we gathered feedback and iterated on it. Chris had also previously worked at Facebook where they had hacked together a similar tool for showcasing work in progress, so we knew that there was an existing need in the market.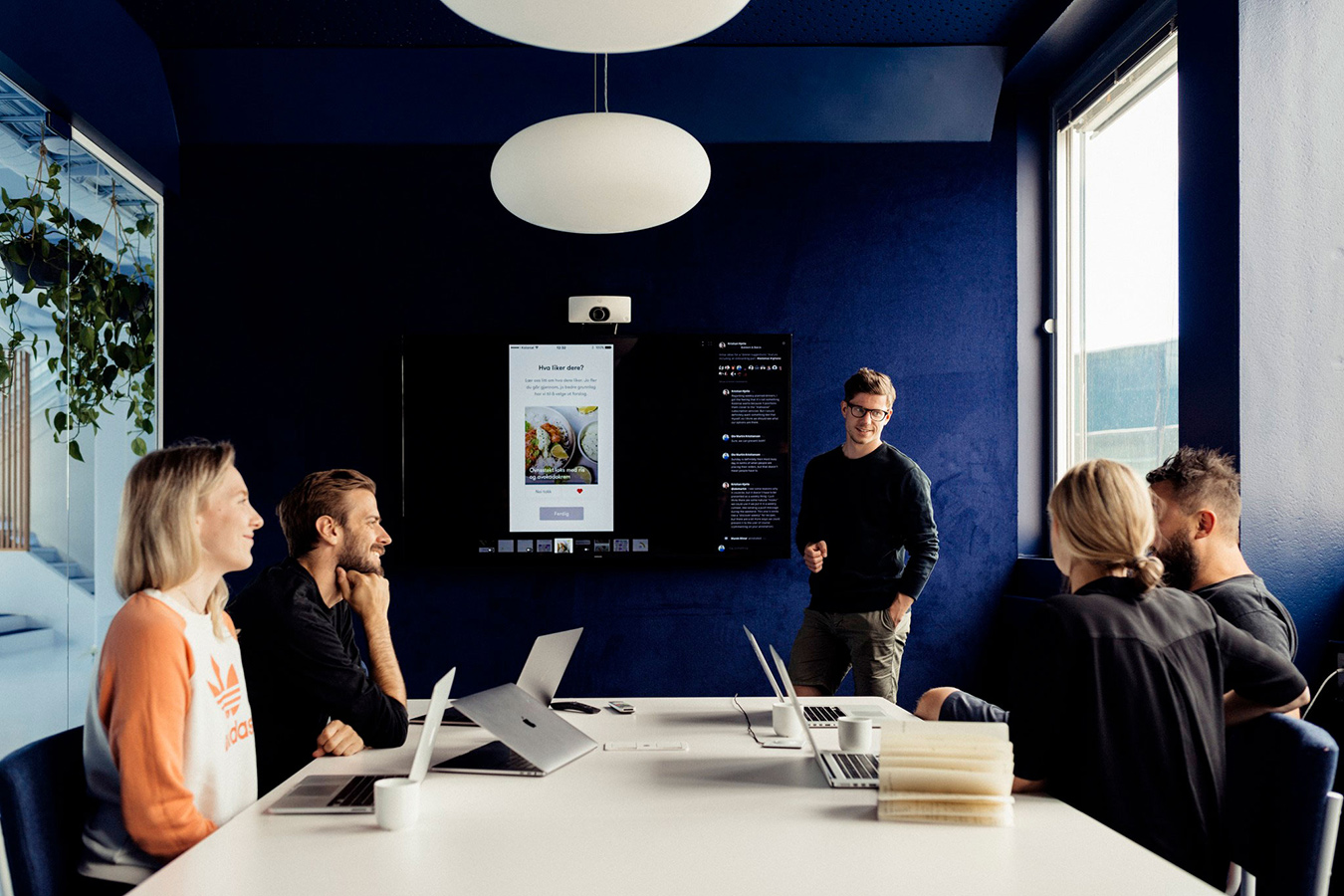 How do you manage the multiple companies?
B&B is technically three different companies running in three different countries, but we are running it as one business. Wake has been run completely separate in the US, and Orbit is more of an "in-house" startup.
Other than Wake, what kind of software do you use to keep things running smoothly?
Slack has quickly become like our central nervous system, maybe to the point where we are over-reliant on it. Other than that we try to keep the number of tools small, and stick to Trello, Github, Dropbox, and Google Docs.
A lot of designers and creatives have a natural entrepreneurship. Why do you think that is?
I think it comes down to a common mindset revolving around problem-solving, and the wish to improve things. You actively have to put yourself in the position of a user to get to the bottom of the problem you want to solve, and I think a lot of designers and entrepreneurs have a natural ability for empathy.
The Bakken & Baeck handbook is beautifully done. How important is the company culture to the success of the studio?
Culture is everything for us. As we have grown from 2 to almost 60 it has been pivotal to keep a culture that makes the company still feel small, embraces randomness, and that gives the team members the same feeling of freedom throughout. The handbook has been important in that sense as a reference for new people, and to create common ground for everyone.
Working with a lot of startups, how does B&B filter the good ideas from the great ones?
First and foremost we have a no-assholes rule. It just isn't worth it. Other than that we look at their track record of building products, which is pretty obvious, but more importantly we look for a certain drive and knowledge about the area they are trying to disrupt.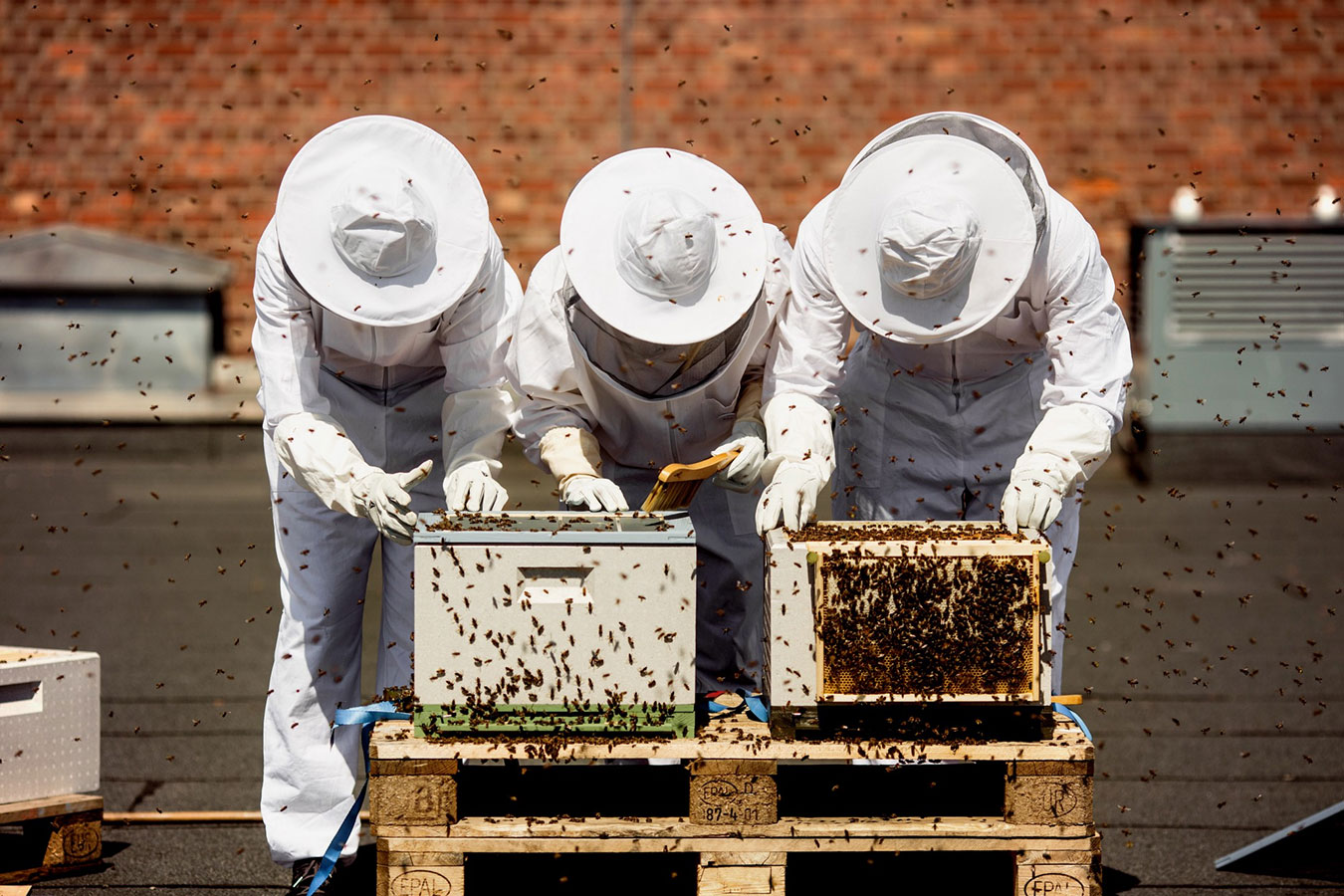 So you keep bees on the rooftop of your Oslo space?
As a tech company, it's great to have an off-screen project to mix things up and put our minds on something else. It's also great to be able to do some good for the world around us. On our rooftop now we have three hives that we tend to now and then. We also reap the benefits of having our own honey.
And you host a B&B conference on an island once a year?
The last three years we have had our own weird little one-day conference on an island outside Oslo. In spite of it being a pretty small endeavor we've had big names like Jessica Walsh, Frank Chimero, and David Karp attend. This year we're making it bigger and moving it to Amsterdam. Stay tuned!