February 2018
STRV, an interview with the marketing department
STRV was founded in 2004 by David Semerad and his friend Martin Stava. Since then, the pair has expanded to 5 locations across the United States and the Czech Republic. After successfully launching two in-house apps, STRV expanded their Prague based headquarters in 2016. Designed Space chats with STRV about studio growth, keeping current with technology, and the process of developing apps. This interview was conducted via email in November 2017.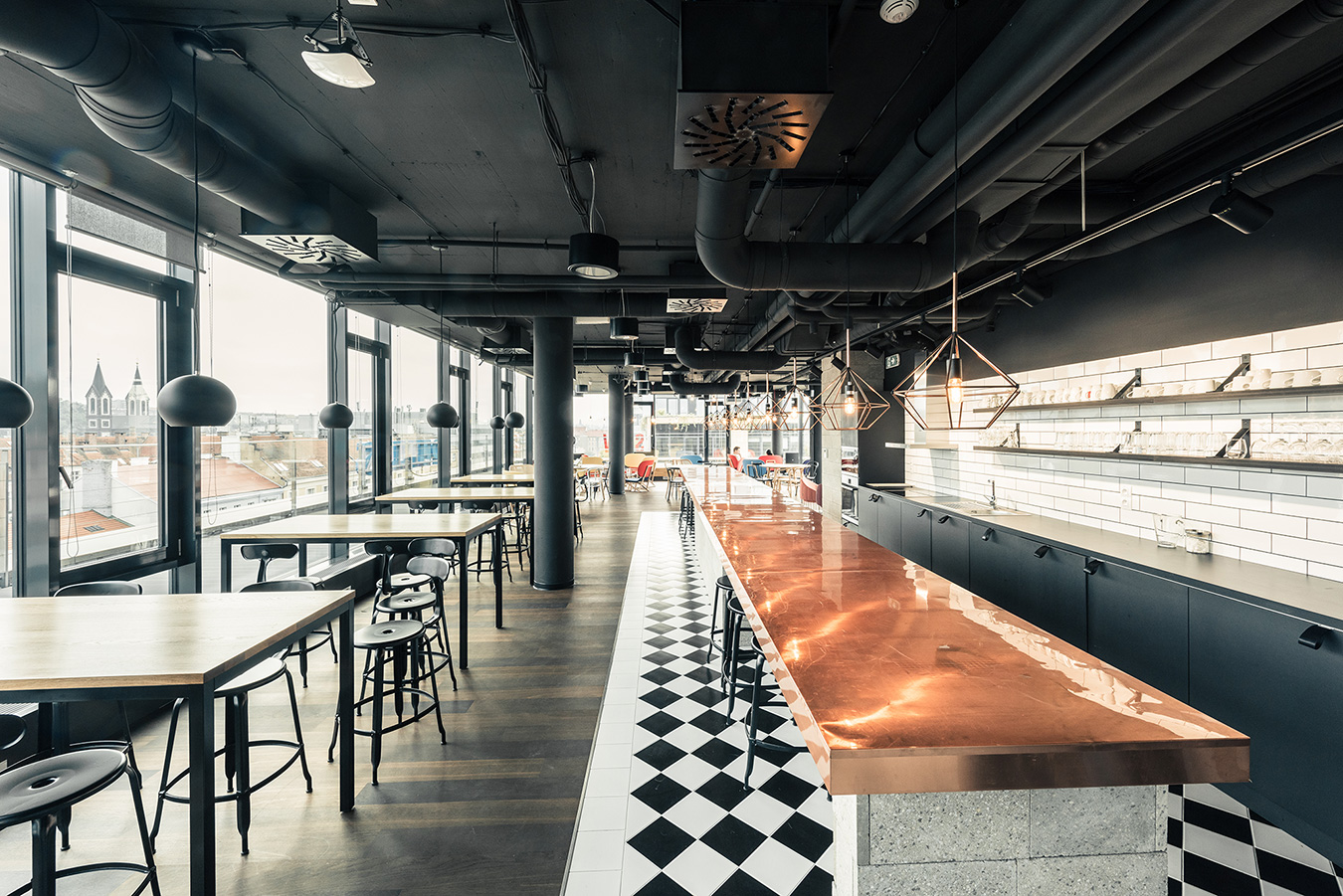 At the time of STRV's conception, David and Martin were merely high school teenagers. Fast forward 13 years and STRV is now 150+ employees, 5 locations, and 17 different nationalities. How did a pair of high school students coding websites morph STRV into where it stands today?
We started small, but we knew the potential was huge. After years of developing websites and apps for local clients, we realized the limitations of working on a small market, and we decided to focus on the US. First, we tried breaking into the US with our own apps, but we quickly saw there was a demand for custom solutions. We focused on mobile apps way before the market exploded, so the first years were tough. But once the app market started booming, and we found our first US clients, expansion and rapid growth was much easier. The key moment came in 2012 when Lubo Smid and Pavel Zeifart joined the company as co-founders.
In the Spring of 2016, STRV moved into a new studio space. What was the rationale behind the design your new studio?
We were inspired by the offices of Silicon Valley's biggest players like Facebook, Dropbox, Twitter, Adobe, etc. And we wanted to bring a bit of Silicon Valley to Prague. It's increasingly difficult to attract and retain talent, and having a world-class office is becoming standard practice. But most importantly, the office was designed to reflect our company culture and to make it a really comfortable and nice place to be in—not only during work hours. You'll find people here during the weekends or late nights: playing pool, working out in the gym, or partying in our seventh-floor bar with a rooftop terrace and jacuzzi.
You're not the first studio to tell me it's increasingly difficult to attract and retain talent.
Demand for good developers and designers is growing rapidly, while the talent pool is unfortunately stagnant. That's why companies have to try really hard to attract good people to fill these positions. We only want the most skilled developers—we hire only about 1 percent of all applicants—which makes hiring all the more difficult. On the other hand, we can offer them really interesting projects with global impact running on the latest technologies, our amazing office, and lots of perks that other companies can't.
What was the catalyst behind expanding your studio space?
In 2015, we grew from 39 to more than 120 people. Our rapid growth continued in 2016, and we soon realized we'd need bigger digs. But we didn't just want a bigger office, we wanted a place that would feel like home.
39 to 120 personnel in one year? Impressive.
Yes. We have finally succeeded in the US. Local startups and companies have come to trust our development and designer's skills.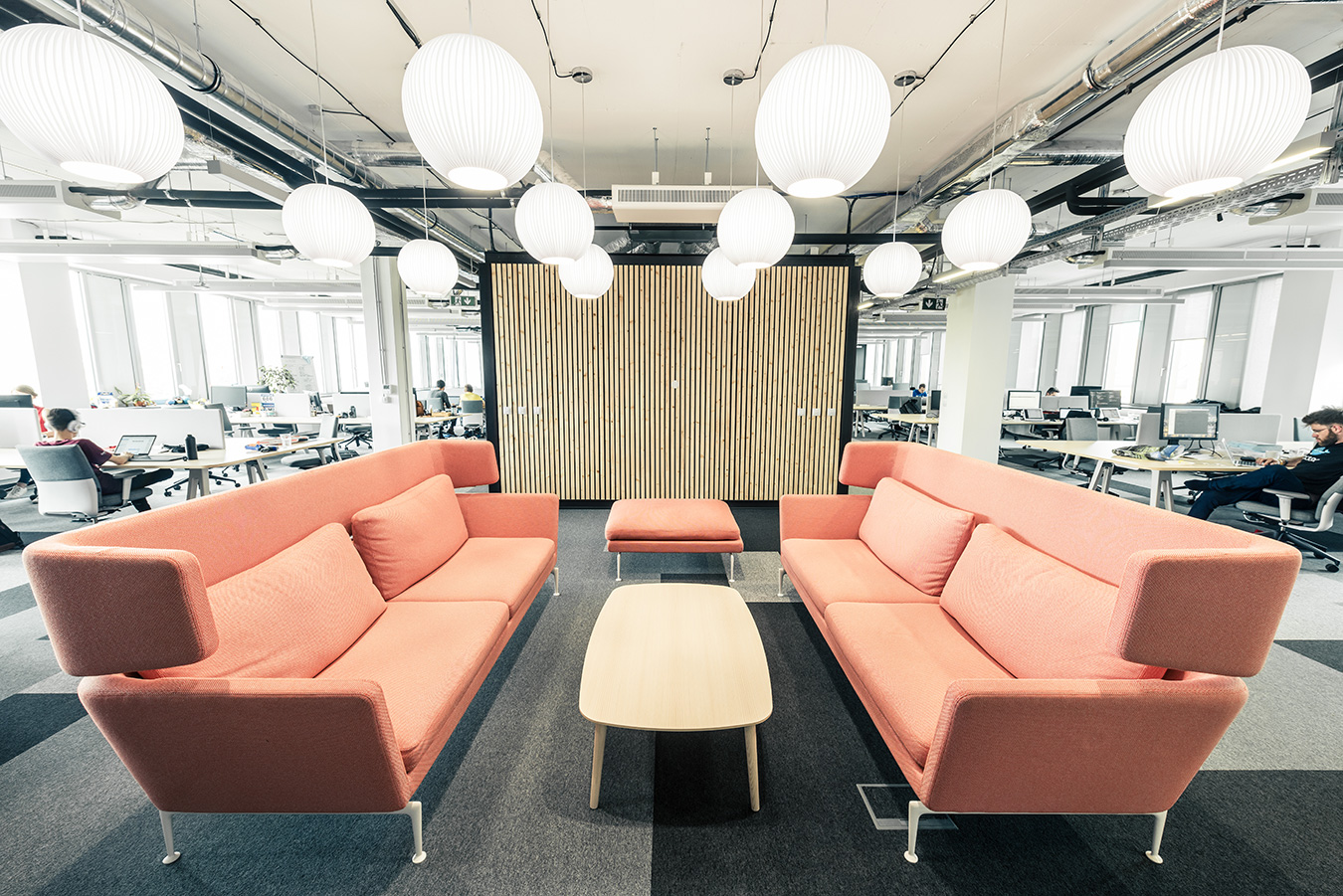 Your studio has a lot of nice luxuries. A wrap around rooftop terrace, jacuzzi, gym, an event space and much more. I can't imagine there was a need for these. Are these luxuries a means to give back to the employees or more of a recruitment tool?
Our company culture is extremely important to us. We have created a very informal, friendly and warm atmosphere, and we wanted our office to reflect that. It is supposed to be a nice place to hang out during and after work. We never rush home because we feel good here too! We also like to keep in touch with the tech community and love to host events quite often, so the space and all its extra features get used a lot.
The stadium seating is a really unique touch. It seems like such a great colloquial way to get teams together. How is this area utilized in the studio?
We use our event space, which can easily fit 200 people, mainly for all-hands meetings and for external events. It is not used for studio work much because most of the projects we create for our clients are worked on by teams of around four to six people, so it makes sense for each team to sit close together. However, there are no rigid rules and people are free to work from wherever they want — from the event space or our seventh-floor bar or even from home.
What was the inspiration for a meeting room filled with birch trees?
Being located in a big city, we always appreciate having a little bit of nature around us. The trees are a nice touch, but we also focus on having a healthy office with perfect lighting and sound conditions and fresh air. We were finalists in the 2016 Office of the Year competition in the Healthy Office category. We also won Smart Office of the Year and a few other awards.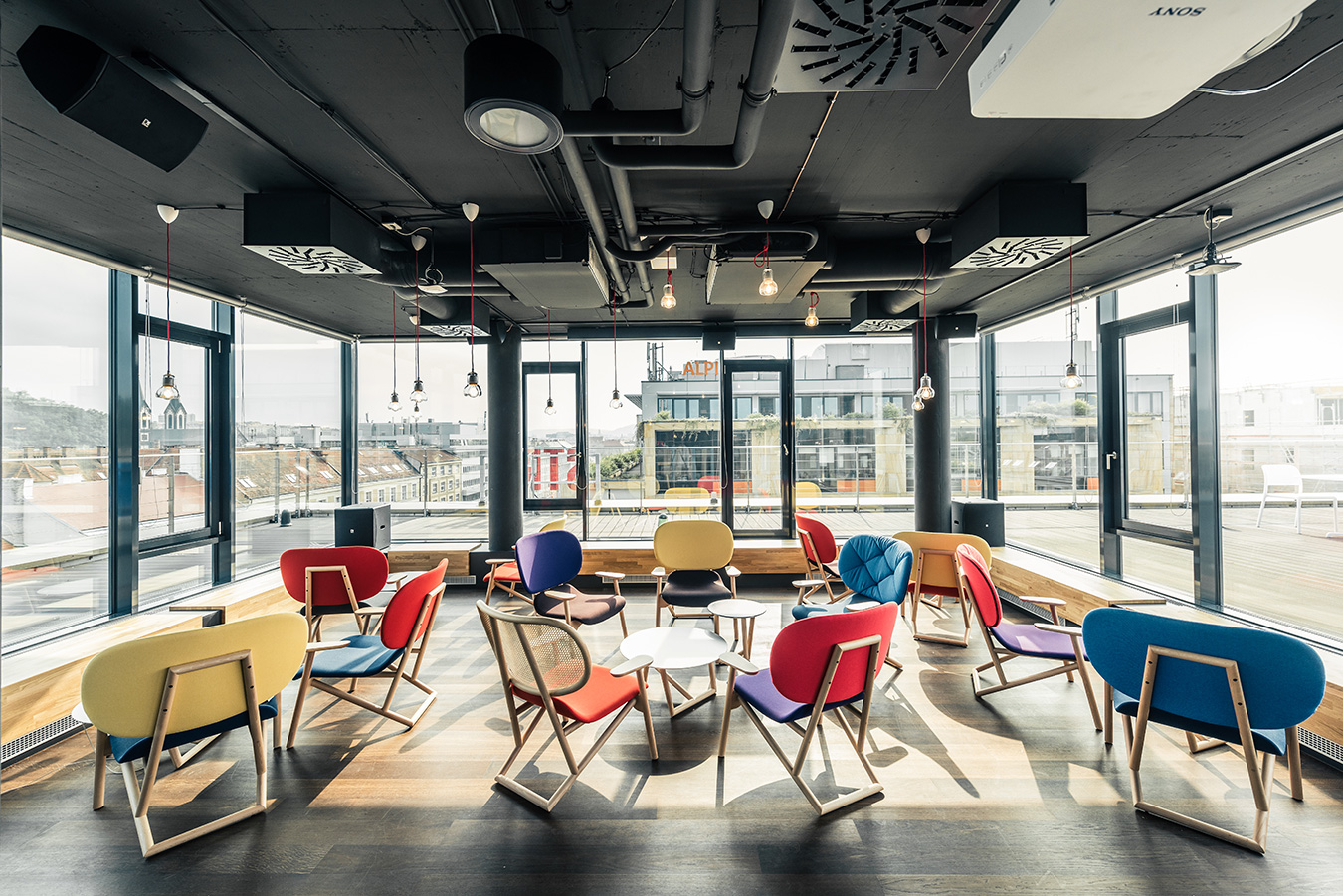 Do all these great perks your studio offers reflect in the work output?
Yes. Having a nice, comfortable and healthy environment helps relieve stress, fatigue and other negative symptoms. The gym is always busy, and we have several internal sports clubs. We respect that when you feel good you work better, so we encourage our employees to lead a healthy lifestyle and remember that great minds need breaks from time to time. A game of foosball, pool, darts or Xbox can also help.
Are there any formal rules that need to be followed?
Not really. Just to be respectful of others, but that goes without saying. We've never had any issues, despite hosting some pretty wild parties.
What software do you use to keep such a large studio connected?
We use Slack, Google Calendar, and Google Documents. Some of the teams use Trello. Others use different tools. In addition to some Android engineers, everyone uses a version of MacBook Pro or MacBook Air.
Technology moves and changes extremely fast. How do you stay on top of the latest technologies?
We are all fans of new technologies, and we keep in touch with all the news. We are also working closely with many Silicon Valley tech companies, so we follow all the latest trends. And, of course, this being a really fast-evolving industry, we must constantly educate ourselves and adapt. But since we are really passionate about new technologies, it's quite easy to stay on top of the latest trends.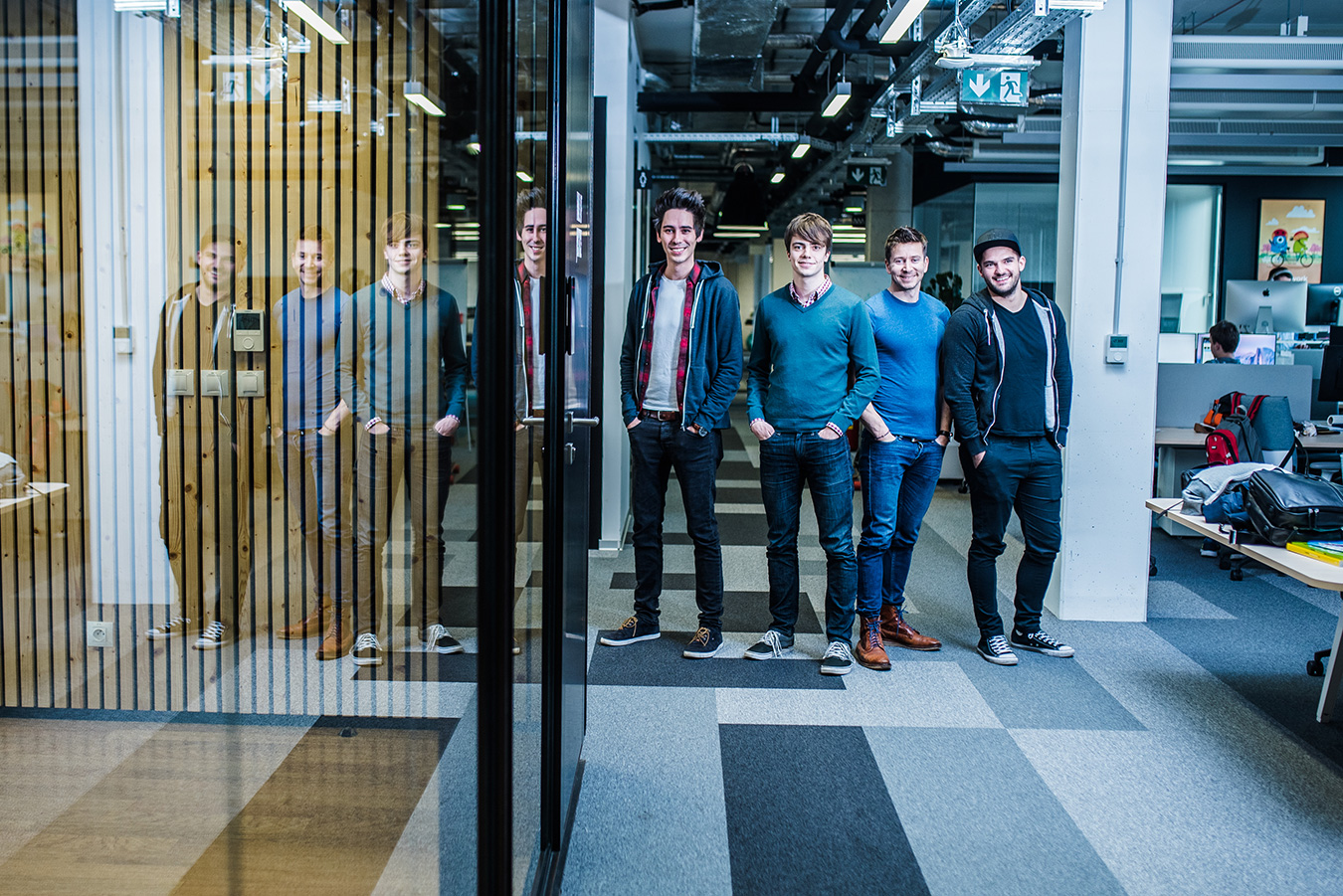 You specialize in app development. Can you walk me through your creative process for app development? I imagine you do a lot of testing.
Testing is an integral part of creating new solutions. But before we even start, we do a lot of research. We analyze the solution and the vision. We look at it from all kinds of different angles, and only when we are sure it will work and the idea is validated, we move forward. We go through several stages of prototyping and sketching, creating and MVPs to deliver a solution that works. We have launched several of our own startups, so we have a lot of experience, and when we see that a client's idea wouldn't work, we work with them to adjust the whole solution. When we find a market fit and see good potential, we move forward with development while thoroughly testing the solution throughout the whole design and development process.
STRV hosts a lot of free events tailored for the technology field. It's great to hear about studios giving back to the community.
As we mentioned above, we are grateful to the tech community we came up from, and we love to give back and keep in touch. It's important to never forget where you came from. We do about 20 Developer Meetups and about four Designer Meetups a year, as well as a hackathon once every four months. Every quarter we organize our biggest event called Silicon Valley Insights where we host talks with top-notch speakers from the most interesting tech companies. Our next SVI event is in December when we will sit down with the former CTO of Tinder.
We also host several small informal events like Developer Beers, and Code Reviews. We occasionally hold events at our US locations, targeted more towards startup founders and industry leaders. For example, last month we hosted three workshops about recruiting tips for startups. We also hosted several hackathons and a pitch night where the winner won $150,000 worth of development resources.