January 2018
As little design as possible
When Random found the building that would become their new space, it was in bad shape but held a lot of character. It was something Daan Lucas, founder and managing partner, just couldn't pass up on. Founded in 2005, Random is an Amsterdam based studio that specializes in digital experience design. Knowing that their new building needed some tender love and care, Random partnered up with local interior designers, X+L, to design their new studio. Not wanting a space that emitted a bold statement or felt cool, Random etched into X+L's creative brief that a pleasant home-like atmosphere was vital. The result is an extremely light and genial studio that doesn't feel overly designed.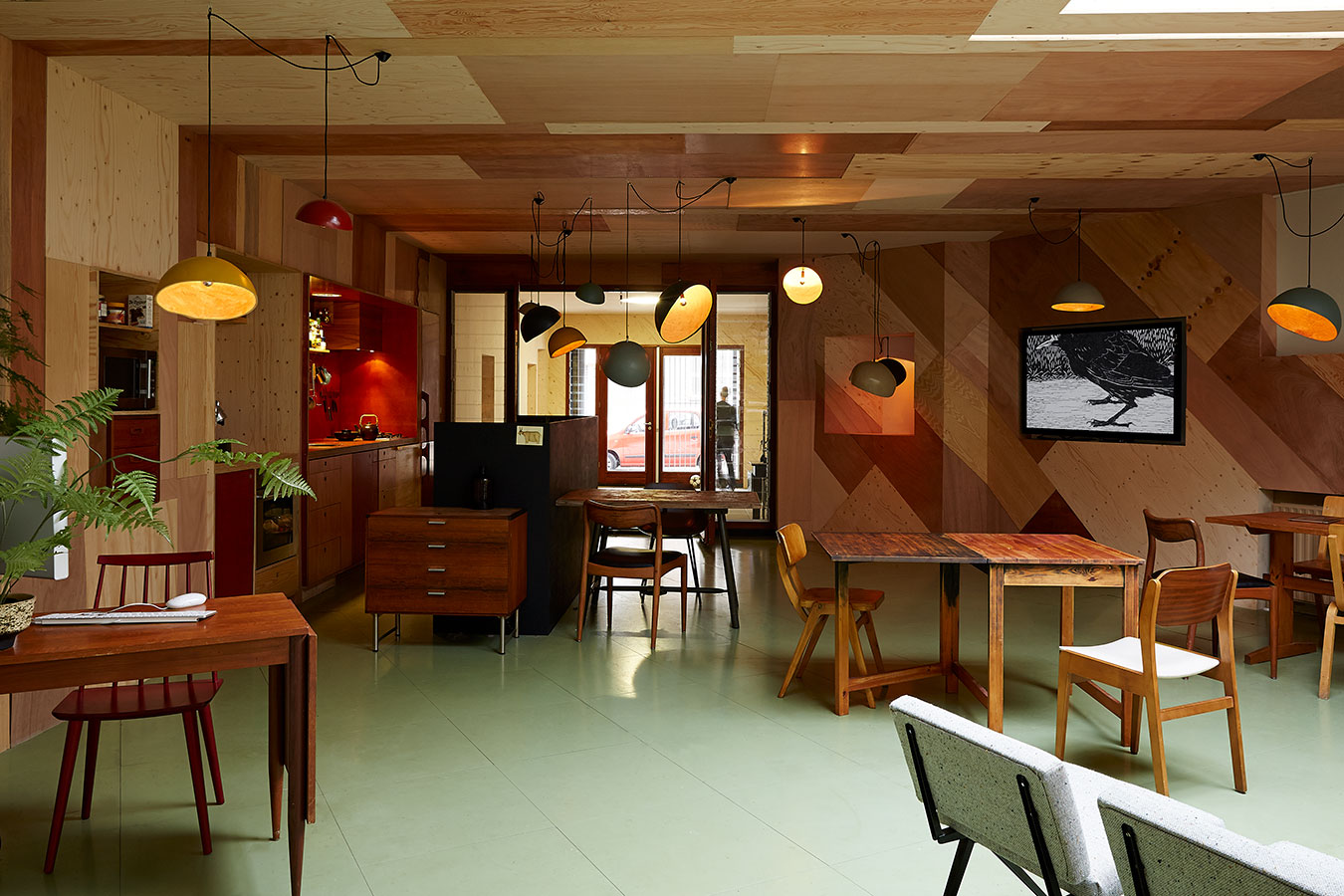 Fine dining
There is an unspoken pleasantry that comes with the dining area serving as the main entrance to the studio. It could be the very thing that creates the entire welcoming ambiance. The stained wall panels create such a warm effect that at first glance you would think you were in someone's home.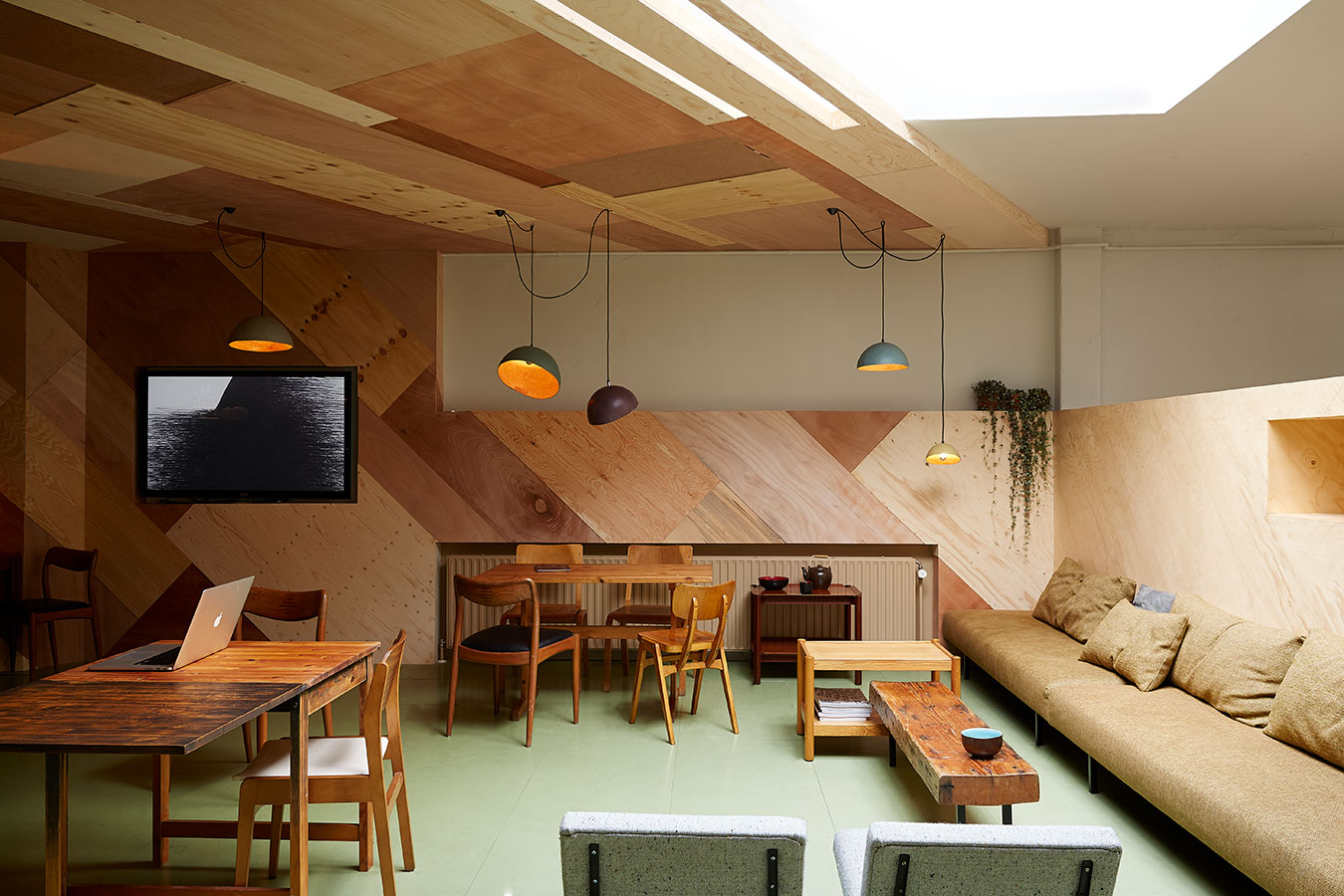 It wouldn't surprise me if a source of inspiration for the dining area was Frank Lloyd Wright's Usonian style. The Cherokee red walls paired with the tinted stone flooring gives a delicious taste of the Usonian style interiors.
"But most of all, I think working in the creative field and not coming from there allows you to have a different perspective on things."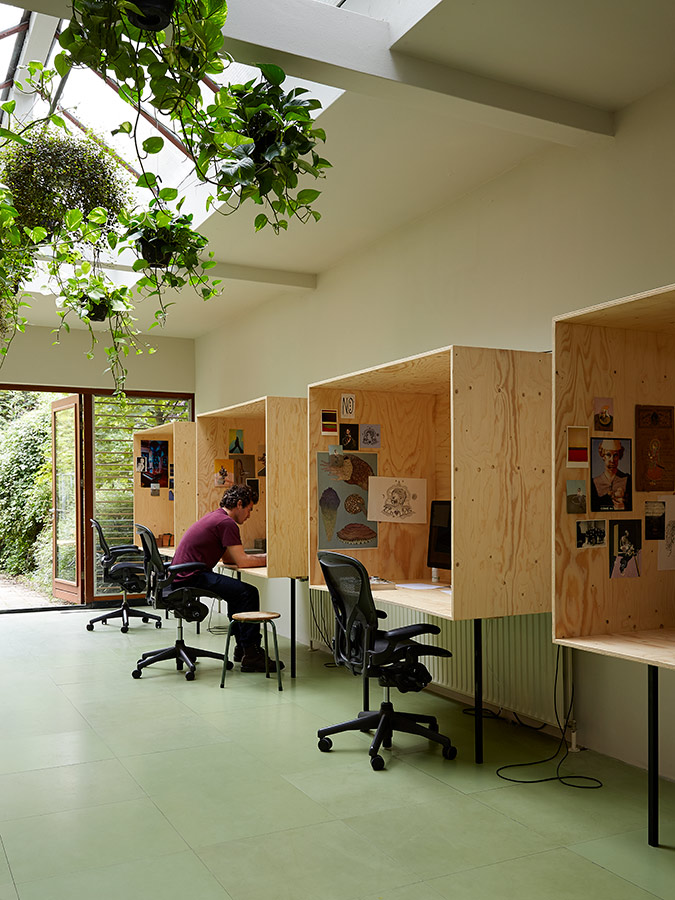 Sticks and stones
The plywood boxes are a great solution to help the creatives stay focused while not banishing them to an office cubicle. I'm imagining they create a fun high-school locker vibe, where each creative gets to decorate their own box and slap a sticker of their crush on the wall.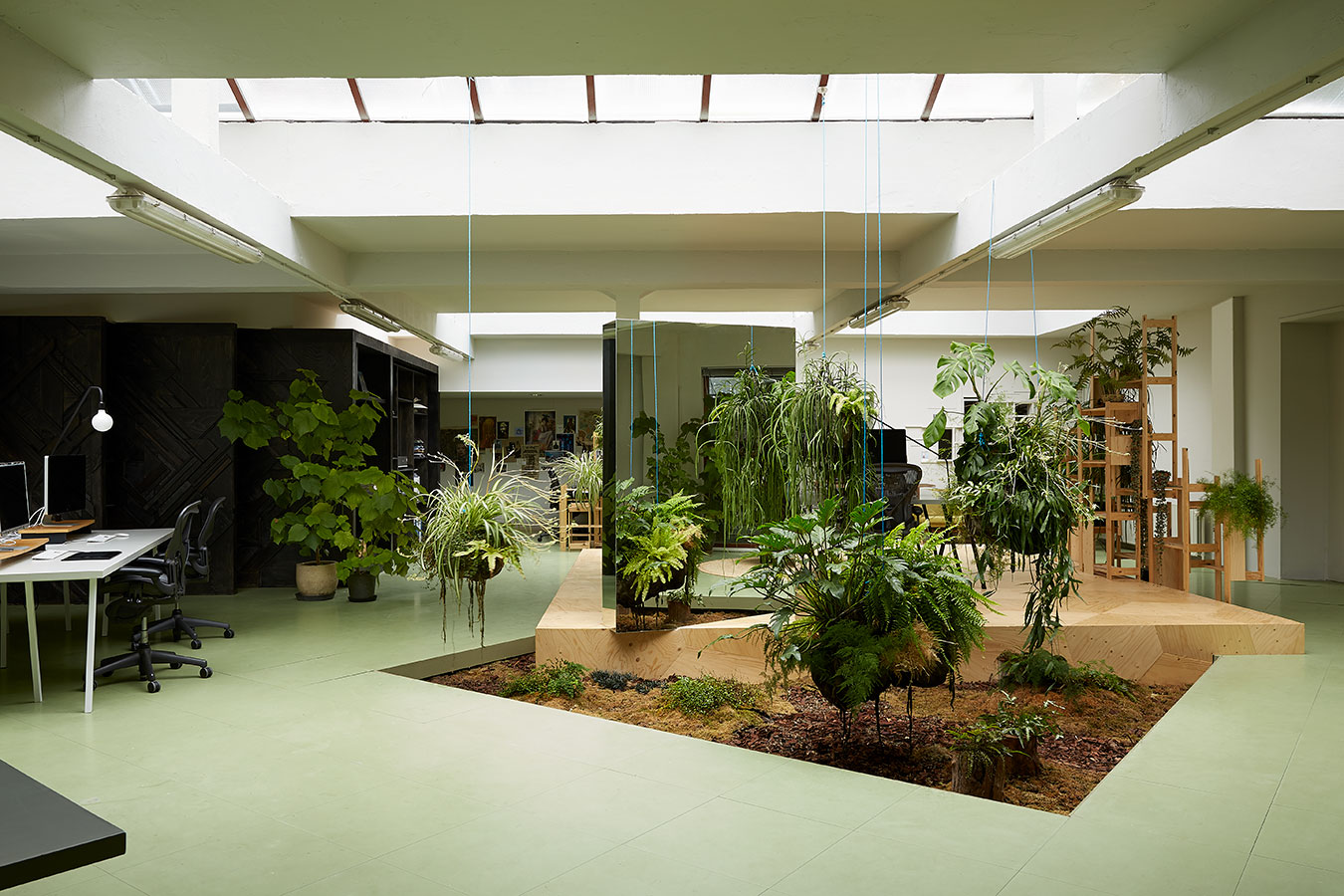 It's a livin' thing
The foliage arrangement and selection is a brilliant touch. The miniature garden at the center of the office is not only inspiring but extremely calming. Not to mention, the crate like skyscrapers that house an impressive assortment of pothos, ferns, ficuses, and philodendrons.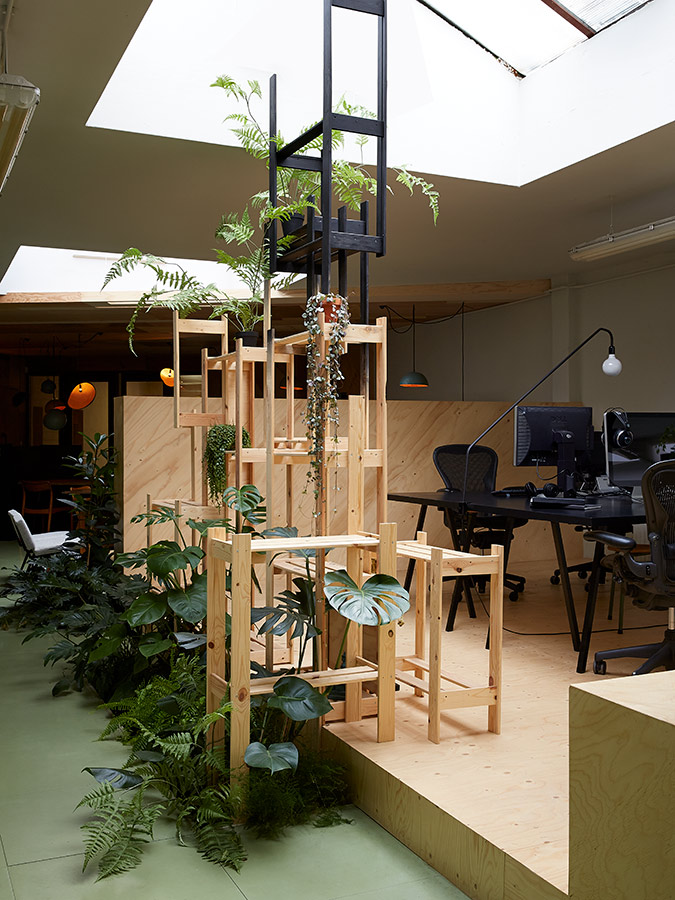 If a miniature indoor garden wasn't enough to set Random apart, the pale leaf-green stone floors absolutely swept me away. It's rare to see a studio space doesn't have a hardwood floor or a natural colored stone floor. The muted green floors are my favorite feature of their entire studio. It compliments the various shades of red on the walls to give a beautiful terrestrial tone. It's a studio that is literally alive with creativity and nature.
"Innovation is a word that is used so much that it has lost its value."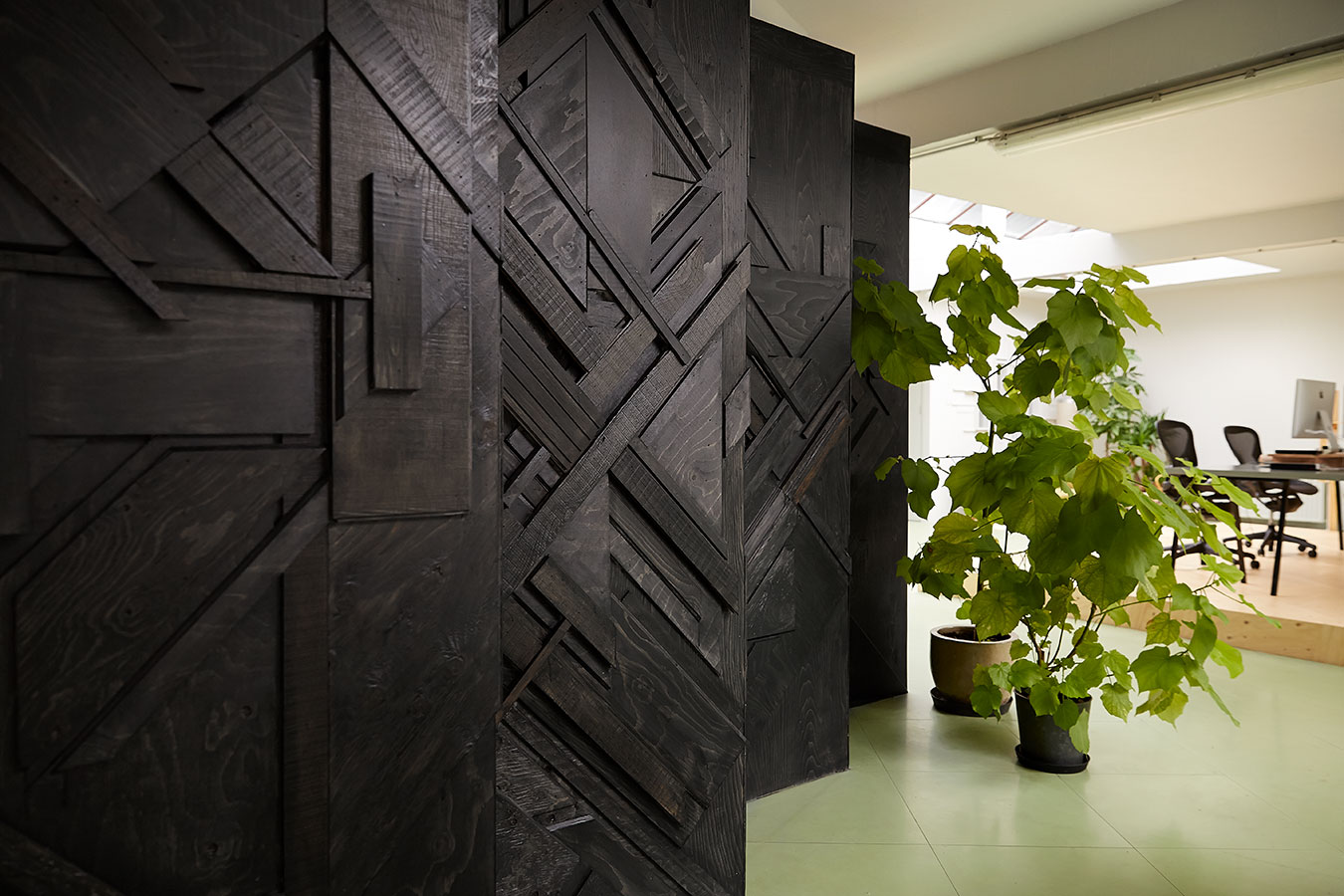 There's no place like home
Call me boring, but I'm naturally drawn to simple and orderly things. My mind isn't wired to think to stain wood walls various shades of red, nor to pair that with a green-tinted floor. But my goodness, am I glad X+L did this. If you hadn't noticed by now, it's my favorite feature of their entire studio. Random has a space that doesn't feel like a studio space at all. It's truly a space that feels like a home.